Just to let you know that the breast forms arrived safely with me this morning, they're brilliant, I should have bought a pair years ago :-) Thank you for sending them so quickly. I only placed my order yesterday.
Marisa

What a brilliant online mail order service you give. You have a new customer;
Lindsay

Dear Betty,
Thankyou for your excellent customer care today, I will recommend you to all my net girl-friends. Compared to other chain CD stores your customer care is in a different league. I cant wait to make my next purchase.
Faye.

Thank you for making my visit so pleasant. Life is short and you made the trip to London worthwhile. I am enjoying wearing my new breast forms and do not like taking them off, they feel so good. I am now back in the west country but if I can manage another visit to London I will certainly pay you a visit.Thanks again!
Vivienne

Hi I was the new girl who came into the shop yesterday (Thursday) to buy a few bits and pieces. Just wanted to say how lovely the two ladies were who helped me and made me feel so relaxed.I was delighted with my purchases and even more pleased at how natural it felt to talk to them about make up, hair and even my breast enhancers! So pleased to have become one of your customers and I hope I become a regular.
Lots of love and Thanks
Tiffs

Thank you so much for all your help in making me a corset that fits. I can't fault your business or your attention to detail. Your personal attention is second to none!'
Sandie

Ladies, This is a note of praise for you all from one extremely nervous individual. It took me nearly an hour to pluck up the courage this morning to enter your shop. Once in, I was made to feel welcome and put at ease straight away. I have to compliment you on the atmostphere and attitude. I have purchased items from your web site and wanted to come along and see the shop and I was really happy to be in there. Unfortunately, I was not confident enough to start trying on some of the georgeous items you have in store - hopefully, next time! Thank you all for making me feel at home and not making me feel like a "freak!" I hope to be back soon.
Love 'n' Hugs
Veronica

Our wonderful unique Christmas card from Deirdre Gates: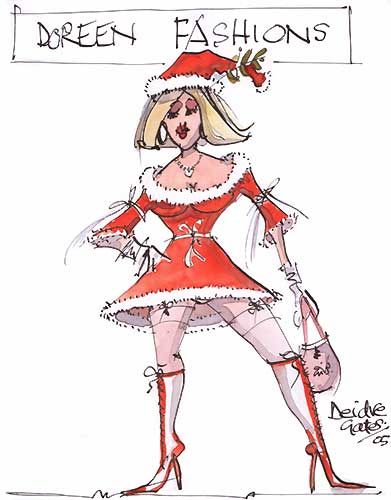 'I promised I would write to thank you for the way you and the ladies looked after me on Saturday. You all made me feel so welcome and relaxed... I had a wonderful day, and would recommend everyone to visit you and your shop.' Penny
'A BIG THANK YOU to all of the girls at Doreen Fashions for their help last week. It made my first weekend (as) Mandy a great success... it was my first step to finally coming out and letting my family and friends know the real me. Mandy'
'Just received my order and totally delighted by the products, gorgeous shoes and very sexy dress. I thoroughly recommend your site and shop to any other girls.You will be hearing from me again in the future. Lots of love, Helen'
'Just a quick mail to let you know the shoes arrived today - what can I say, excellent service, fantastic shoes, you are amazing people thank you sooooooooo much you just made my day!!! Andy p.s. - the fit is perfect just perfect.'
'Thanks for your prompt reply, all I can say is you offer a fantastic service to the cd/tv/tg community, and at extremely reasonable prices. I was absolutely thrilled with both my sandy long, and my carmen wigs. both of which are excellent quality, and make me appear and feel like a girl should, fantastic. I got my Carmen(wig) this morning, and have been wearing it all day, fantastic.As for your shoes, again fantastic and very comfortable. Well done and keep up the good work. Rest assured the next time I'm down in London, I will be paying the shop a visit.
Lots of Love, Martha'
'Just to say thank you for the best shopping experience ever.Your service was fantastic and Irene knew exactly what a girl wanted. Best of all the quality of the clothes is wonderful. luv Jayne'
'I just wanted to thank you very much for the kindness and consideration which you all showed to me when I visited your shop on Friday afternoon.' Keith
'An excellent service, I shall certainly use you again.' Heather
'Received my order this morning, the underwear is brilliant, and as for the knee high boots they are divine. Thankyou very much! I will be ordering more from you in the very near future, because I'm proud to be a Transvestite!'
Davina T
'Dear Betty, (and all at Doreens). I would like to say a BIG THANKYOU to all at the shop..My latest purchases were Brilliant! A brilliant service to the transgendered community..
Luvs Jessica Jane xxx'
'Everyone at the shop was just marvelous to this first time "out of the closet" trannie; it was fantastic to shop with such wonderful, friendly and understanding assistance. Please give luv and kisses to everyone there!'
Liza (from South Africa)
'Firstly thanks for the detailed reply regarding my initial "wigs" enquiry... Can you pass on my appreciation for the assistance I had in the shop when I came down to see you last Saturday... Special thanks for the person who knew (instantly!) which wig colour was best for me and a style to match.'
Martin
'I would like to extend my extreme gratitude for the service provide. You help and assistance was much appreciated especially Betty. You moved heaven and earth to meet my order for collection, and the corset and wig were just fantastic. It was my first time shopping openly and I loved it although still feeling slightly out of sorts, all of the staff made me feel welcome.'
Destiny
'First visit today. FAB shop, the friendliest staff ever and I bought the best most comfortable and cheapest shoes i have ever bought - and cheap shoes in size 11 are hard to find. Thats cheap in price not quality. Thanks I will be back soon for sure...'

'I would just like to say how very pleased I am with my new breastforms that I have just received from you. They are perfect and I will have no hesitation in recommending you to anybody who is looking for top quality goods at very good prices. I will be back again very soon.'
Kim
'Thanks ever so kindly for the wig & your first class service!!!! I will most definitely being shoping online with you again in the not to distant future!!!!'
Hanne
'...many thanks for looking after me on my last visit to your shop. The clothes I bought were beautiful and really looking forward to another visit.'
Emma
'I finally visited your LOVELY shop about 2 weeks ago, and got some really nice items. Also, I would like to thank for the extraordinarily good service I received, it was first time there for me, and I was made 100% comfortable and welcomed. Thank you so much....Thank you again for SUCH GREAT service.'
Daniela
'I've just received the goodies ordered by my alter-ego S*** and just HAD to send you a thank you for your wonderful service. You've made a new woman of me! Big, BIG hugs'
Amanda
'Thanks so much for your very detailed reply.Once again confirming why Doreen Fashions is No 1....
Linda'
'As usual you have surpassed all my expectations with your excellent service, you are now in my `favourites` and I can guarantee I will be doing more business with you in the future.'
Sarah
'Just a quick email to say how very impressed my carer and I were when we came to your shop last week, and to thank you very much for your kind and attentive service. I dont know what the tv communiy would do without your service, and long may it continue.'
Barbara
'Just a quick note to thank you for your quick service for the shoes you sent to spain, they are a perfect fit, I shall use you again.'
Ian
'I'd just like to say thank you for the fantastic service I received from you. I placed my order on Saturday and received Monday morning first post. First class ladies!!'
Rhona
'I came into your shop about a week ago, and you and the girls were just great. I was very very nervous, but you put me at ease and I had a lovely shop. This was the very first time I had "shopped in public" for me in 30 years of CD'ing. I cannot tell you how much I appreciated the advice I got. I felt very welcome, and for the first time ever - just one of the girls.'
Kim
'A very short note to say a big thank you for the reception at the shop a couple of days ago (first personal visit). Exactly living up to the web site description. Service, quality, support and even the cup of coffee. Of course I now have to live up to the standard of the new wig. Thanks again.'
R.W.
'Just a quick thank you for all your help on Tuesday ... And no one I know could believe that I would spend two hours in one place - you've really brought out the shopaholic in me...'
Julia
'Thank you all for the help and advice you gave me on my visit to the shop yesterday. I am very pleased with my shoes and wigs, I will try not to leave it so long before I see you again.'
Marilyn
'Thank you so much for your kind reply; everything I've heard about you and your shop is obviously true. I look forward to shopping. Many thanks for being so lovely.'
Beth
'Thanks for the fast shipping' (to Ontario)
JL
Hello Betty...just to say thanks for being so nice and enclose a few photos of my USA visit for you'
Charley
'...thank you for your help and friendly service throughout this year.' Natasha
'Thanks for your great service'
Kerry
'Just had to drop you a line to thank you soooo much for getting back on line... Doreen's is the only place for me!' Carole
'I buy most of my underwear from Doreen's and both pairs of silicon Breasts'
Alison (Scotland)
'Dear Irene, Just a quick word to say thanks for the extremely prompt service that you have provided. If only others had such wonderful delivery. Order Wednesday and received Thursday. It is so refreshing to see that someone really does delivery!!'
Veronica
'Thank you for your efficient and helpful processing of my recent orders, a satisfied customer.'
Jean
I would just like to express my appreciation at the very efficient and friendly way in which you processed my recent order. The evident concern shown, and help given, when there was a delivery hiccup was really exemplary and very refreshing. As you can gather I was really impressed.'
Malcolm
'Just a brief note of thanks for your help this week in completing my order. I really appreciate your call on Tuesday to verify the sizes of the items that I ordered. As you could no doubt tell I have not done this sort of thing before. It has only been one week since I was able to admit to my Partner what and who I am. She has been really supportive and encouraged me to place the order for the shape wear. I look forward to placing more orders with you soon. I cannot thank you enough for making a difficult situation very comfortable.' C.M.R.
'...your site is fantastic.'
Emma
'Thanks for the wig. I am very happy with it and considering purchasing another. The service is excellent.' Angie
'Thank you so much for your quick reply. I really appreciate it.'
Maggie
'Thank you very much for your words of encouragement, nice to know there is help out there. My order arrived this morning, and am wearing some of it now, so all I can say is I shall be back for more.'
Karen
'A big thank you to all at Doreen Fashions'
Lucy
'Thanks again for the help I received on Saturday choosing my boobs...'
Marie
'Excellent service and quality'
John
'Thanks for a great service.'
Paul