PUBLIC TRANSPORT
Victoria Line:
Take the Northbound Victoria Line to Walthamstow Central Station, this is the last stop on the Victoria line. On leaving the station, you can cross the road to the bus station and take a 5 -8 minute bus ride to Leabridge Road. You can take the 357, 257 or W15 bus from stop C (or any bus to the Bakers Arms), which all stop in Leabridge Road right across the road from our shop. The shop has a large green sign with Doreen's on it. Or on a fine day, take a 15-20 minute walk down Hoe Street and turn left at the lights at the Bakers Arms (Now Paddy Powell Bookmakers) into Lea Bridge Road and then you will see Doreen's on the right (a few shops past Barclays Bank).
Central Line:
Take the Eastbound Central Line to Leyton Station. Cross the road once at Leyton and get the 69 or 97 bus and get off at the Bakers Arms public house. You will see Barclays Bank on the other side of the road which is on the corner of Hoe Street and Leabridge Road. Doreen's is approximately 10 shops up on the same side of the road as the Bank.
BY CAR:
from the M11
Head southbound down the M11 at the end the motorway merges with the North Circular (A406). Select the right hand filter lane over the Road Bridge. The traffic filters into the North Circular. Select the left hand lane and take the first exit off the North Circular marked A104 (Woodford). At the roundabout, take the first left (Woodford New Road) A104. Proceed along the road until you reach the first roundabout. Take the second exit marked Leabridge Road(Bakers Arms Area).
PARKING
The car park in Stanley Road E10 (off Lea Bridge Road) between the Drum Pub, and Bakers Arms (now Paddy Powells Bookmakers). Parking prices, up to 1 hour = £1.00, 1 hour to 3 hours= £2.00, and all day =£5.00
Tesco's car park in Capworth Street.(90 Mins)
Outside the shop in a parking bay-if you are lucky to find a space (30mins) between 10:00am and 4:00pm.(Sundays there are no restrictions on a single yellow line, but please do not park on the bus stop or a dropped kerb for wheelchair crossing)
Also there are parking voucher bays on some side roads.(30 mins and 1 hour and there are now some 15 minutes free and if you wish to stay longer a phone number is given so that you can stay longer by paying over the phone using your credit card)- please check road sign for amount of time allowed (vouchers obtained from shops with a P sign).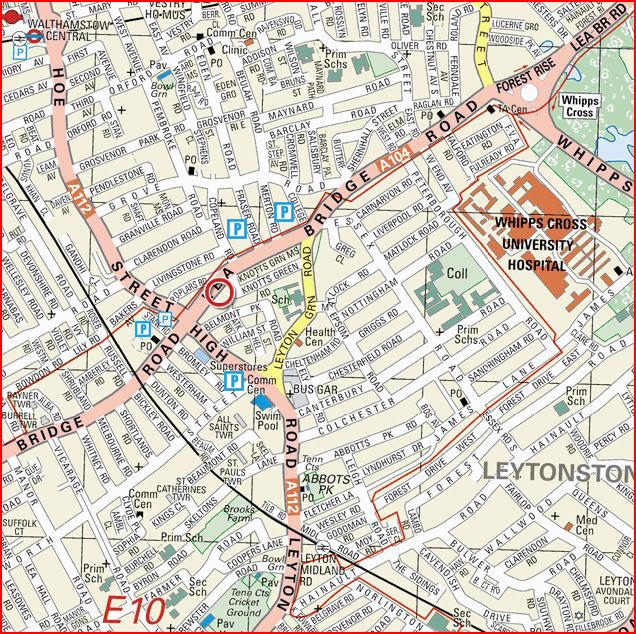 You can be guaranteed of a warm welcome on your arrival.